4 Steps to Career Success
The new career transition workbook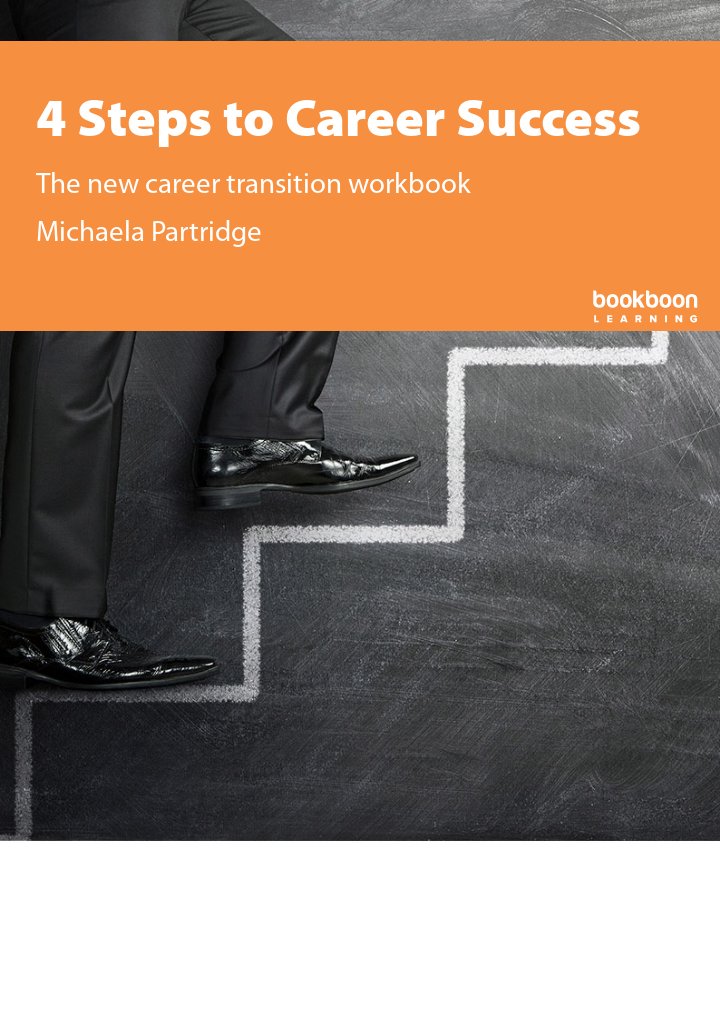 ISBN: 978-87-403-0567-8
1 edition
Pages : 90
Price: 75.50 kr
Price: €8.99
Price: £8.99
Price: ₹150
Price: $8.99
Price: 75.50 kr
Price: 75.50 kr
Download for FREE in 4 easy steps...
This is a Premium eBook
Bookboon Premium - Gain access to over 800 eBooks - without ads
You can get free access for a month to this - and 800 other books with the Premium Subscription. You can also buy the book below
Start a 30-day free trial. After trial: 39.99 kr p/m
Start a 30-day free trial. After trial: €5.99 p/m
Start a 30-day free trial. After trial: £4.99 p/m
Start a 30-day free trial. After trial: ₹299 p/m
Start a 30-day free trial. After trial: $3.99 p/m
Start a 30-day free trial. After trial: 39.99 kr p/m
Start a 30-day free trial. After trial: 39.99 kr p/m
Users who viewed this item also viewed
About the book
Reviews
Cory A. Lavelle
★★★★★
What I love about this book is that it has its own way of putting you into the situation and you feel motivated afterwards. Great job!
Preface
A 5 minute internet search or a visit to a reputable bookshop will provide an overwhelming number of self-development and career change books and resources. The great majority of them are excellent in themselves but there is now little that is new.
I decided to write this book when I realised that, when helping clients, they needed to go to a range of different sources to cover what I regard as the fundamental success factors in job search or change.
I have set out to bring together these fundamentals in a four step process that puts you rather than the process at the heart of the matter.
- What really matters to you.
- What you ideally want to do.
- What works best for you in finding that ideal.
- How to look after yourself during a challenging journey.
In difficult economic times we too often have to settle for job opportunities that are not ideal. I cannot promise to always avoid that but I passionately believe we should start the search with the aim to do much better than "be able to pay the mortgage". Only by setting our sights higher can we hope to achieve success.
This book is written primarily to help those seeking employment job change although if you are contemplating setting up your own business and becoming self-employed the fundamentals are the same although some of the detail may need to be adapted.
By concentrating on what you need and providing a practical workbook approach I hope I have made a contribution to your success.
Best wishes,
Michaela Partridge
Content
Preface
About the Author
About Work's A Dream
Introduction

Your journey comprises 4 Steps

Step 1 Delving

What are personal values?
Why think about your personal values?
Defining your personal values
Workout 1: identify your personal values
Honouring your personal values
Feed your passions and interests
Workout 2: capture your passions and interests
Work with your personality
Play to your strengths
Workout 3: capture your strengths
Key points from Step 1: Delving

Step 2 Imagining

Workout 4: letter to myself
Workout 5: creating "idea pools"
Workout 6: ideal organisations
Workout 7: creating a vision board
The story so far
Workout 8: what have I learnt?
Workout 9: what are my options?
Key Points from Step 2: Imagining

Step 3 Realising

Prioritising
Workout 10: my top 3 paid work options are...
Reality check
Workout 11: dissecting your options
Review and reflect
Visualising your future
Workout 12: create a compelling vision
Plan! Plan! Plan!
Action Planning
Workout 13: my action plan
Key points from Step 3: Realising

Step 4 Caring

Facing the fear of change
Challenging limiting beliefs
Workout 14: turning around negative beliefs
Improving confidence
Workout 15: Existing confidence and improvements
Beating the blues and staying motivated
Workout 16: access your motivation
Make the best of your 168 hours
Tricks that keep you in control
Gold Time
Workout 17: your Gold Time
Eat that frog!
Most important things
Does this make the boat go faster?
Stop procrastinating
Workout 18: 5 steps to beat procrastination
Mindset matters
Overcome set-backs
Workout 19: get to the root of the matter
10 tips to keep you on track:
Move forward
Self-care really matters
4 self-care strategies to keep stress levels in check
Workout 20: self-care plan
Key points from Step 4: Caring

A Final Word
Resources

Books
Online
Career coaching
Research
About the Author
The author, Michaela Partridge, has spent more than 20 years in the Human Resources profession many of them in the corporate world responsible for all areas of recruitment and selection, redundancy programmes and career transition. Since setting up her own business Michaela facilitated the creation of a London based recruitment agency; has worked on numerous recruitment campaigns assessing potential candidates to join private and public sector organisations and has worked with a wide range of candidates seeking career change either through choice or redundancy.
Michaela is also an experienced, qualified career coach and mentor assisting individuals to gain clarity, motivation and confidence in all areas of their job search. She is the co-founder of Work's A Dream which was set-up to assist individuals either at the start of their career or seasoned professionals with their career change challenges. Her passion is to share her knowledge so that everyone can learn, grow and develop to be the best they can be.