Managing Primary & Secondary Schools
A Primer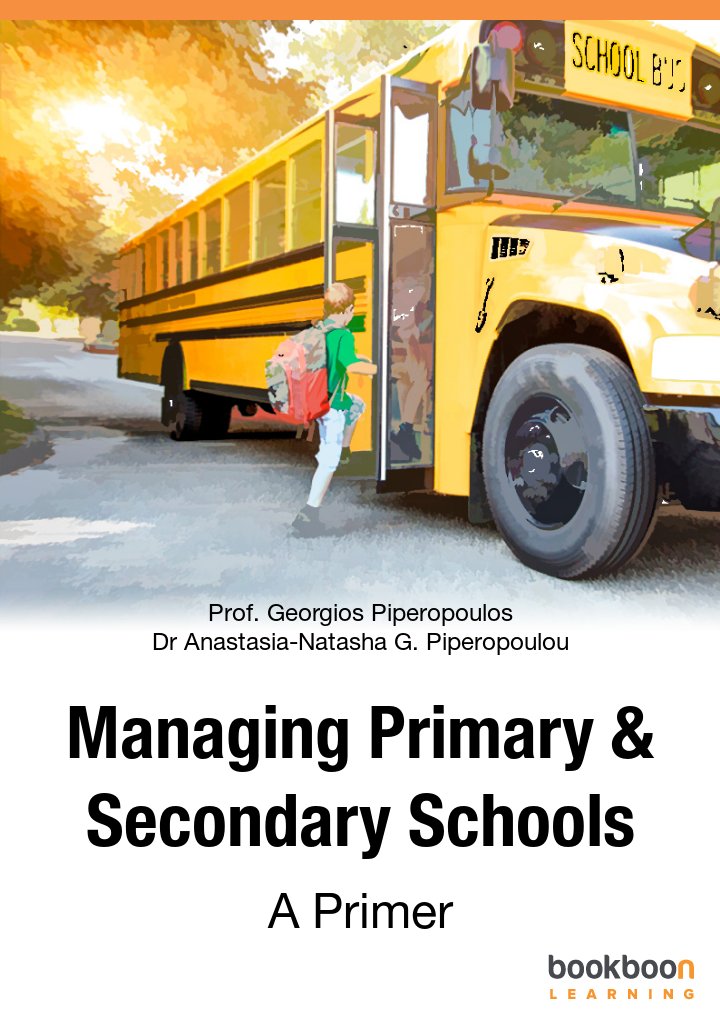 ISBN: 978-87-403-1641-4
1. Auflage
Seiten : 155
Preis: 129,00 kr
Preis: €13,99
Preis: £13,99
Preis: ₹250
Preis: $13,99
Preis: 129,00 kr
Preis: 129,00 kr
KOSTENLOS downloaden in 4 einfachen Schritten...
Das ist ein Premium eBook
Bookboon Premium - Erhalten Sie Zugang zu über 800 eBooks - ohne Werbeanzeigen
Erhalten Sie kostenlosen Zugang für einen Monat - und 800 andere Bücher mit dem Premium Abo. Sie können das Buch auch einzeln kaufen
Kostenloses 30-Tage Probeabo. Dann 39,99 kr p. M.
Kostenloses 30-Tage Probeabo. Dann €5,99 p. M.
Kostenloses 30-Tage Probeabo. Dann £4,99 p. M.
Kostenloses 30-Tage Probeabo. Dann ₹299 p. M.
Kostenloses 30-Tage Probeabo. Dann $3,99 p. M.
Kostenloses 30-Tage Probeabo. Dann 39,99 kr p. M.
Kostenloses 30-Tage Probeabo. Dann 39,99 kr p. M.
User, die diesen Artikel angesehen haben, sahen auch
Über das Buch
Bewertungen
Adamantia Kloutsinioti, High-school principal, ret
★★★★★
As a teacher and a high-school principal in Greece, I have been involved in teaching and providing educational services to youngsters and adolescents for over 35 years. Taking this into consideration, I feel the need to express my congratulations to both co-authors, father and daughter. Indeed, their book provides a plethora of useful information and opens up a basis for a discussion on the type of persons that should be in charge of primary and secondary schools. Moreover, I couldn't agree more with the authors' statement that modern school administrators should be both managers and leaders in providing the required training and the motivation needed to young children and adolescents to enter university studies and the labor market. Overall, I found the book to be pleasantly reading, and extremely informative. I highly recommend it! I wish all the best to both authors!
Klaus Schoefer
★★★★★
Concise yet comprehensive book on the subject of primary/secondary school management.
Panagiotis Kloutsiniotis, PhD candidate
★★★★★
Based on the previous books authored by professor G. Piperopoulos and published by bookboon.com (see 'Control your stress & Manage your time' and 'Fundamentals of communication, PR & leadership') I was certain that the present one will have the same success. Indeed, this is a very interesting and scientifically sound book, that covers the issue of management of primary and secondary schools. In detail, it combines three major issues, namely management as an art and a science, exercise of leadership and finally, modern educational systems in a global perspective. In summary, this book can be vital not only to students and professionals, but also to those eager enough to enhance their knowledge on the relevant topic. I do recommend it to students in education, and management as well as to teachers and school administrators who desire challenging reading.  Finally, the co-authoring between father and daughter is something you don't see everyday. I wish you the best!
Jack Freeman, Ed. M.
★★★★★
Well structured, innovative approach, commendable thesis in combining management and leadership. The global presentation of educational statistics in regular and special schools is a plus.
Dr Katja Popova
★★★★★
Excellent work by two capable scientists which should be downloaded on ipads, tabs, kindles, laptops and pcs of any student or education employee who is interested in matters affecting our work in primary and secondary schools. The designation of the book as a 'primer' does not do justice to its contents.
Beschreibung
The book is aimed at students in management, education and other subjects planning a career in primary and secondary schools, at school personnel and members of the broader interested public. Co-authors of the book are an academic-practitioner in management who taught university courses and consulted corporations and organizations at both sides of the Atlantic and a psychologist working at secondary level schools for special education needs teenagers for the last 7 years, after running her private practice and lecturing school teachers at the post-graduate level. Father and daughter have composed this 'primer' hoping it will help to highlight the art and science of managing modern primary and secondary schools.

Inhalt
What is Management?


A quick glimpse at the protagonists of the classical and neoclassical approaches

Henri Fayol's Administrative Management Approach (Fayolism)

F. W. Taylor's Scientific Management Approach (Taylorism)

Max Weber's Bureaucratic Management Approach


The shift of focus to Human Relations in management theories


George Elton Mayo's work and the dawn of the Human Relations Approach

Abraham Maslow's pyramid of the hierarchy of human needs

Herzberg's and Likert's contributions to the Human Relations Approach

McGregor's XY and Ouchi's Z theories of management


The Greek imprint on education


Education in Athens and Sparta

Education in Rome

Education in other Mediterranean cultures, Babylon and Persia


Education in ancient Far East: China and the Indian subcontinent 40


Education in China

Education in India


Western education from the dawn of Christianity to the 20th century


Gradations in the Athenian and Roman education system

Education in medieval times and Renaissance

The Industrial Revolution and schooling for the non-privileged classes


The United Nations 1959 Unanimous Resolution on the Rights of Children

Nursery, kindergarten, primary and secondary schools

Brief presentations of Schooling systems around the Globe

Schooling systems in selected European countries and Russia

Schooling systems in North and South America

Schooling systems in selected African countries

Schooling systems in selected Asian countries, Australia and New Zealand

Schooling for pupils with SEN and Disabilities – A brief preamble

Schooling for SEN and Disabilities pupils in selected E.U. States and Russia

Schooling for SEN and Disabilities pupils in North and South America

Schooling for SEN and Disabilities pupils in selected African countries

Schooling for SEND pupils in selected Asian countries, Australia & New Zealand

From Athens of the 5th century B.C. to the USA of the 20th century A.D.

A brief glimpse of research efforts at the Universities of Iowa, Ohio and Michigan

Tannenbaum and Schmidt's 7 stage 'leadership pattern' continuum

The appearance of 'contingency' and 'situational leadership' theories

'Transactional' and 'transformational' leadership theories

The theory of 'emotional intelligence' comes on stage

When titles signify roles: manager and leader as the two sides of the same coin

Selected duties and responsibilities of primary and secondary school administrators

Characteristics of successful school administrators as 'managers and leaders'


The case of London's 'Tower Hamlets' experience

Jeremy Sutcliffe's 'Desert Island Challenge'

The Wallace Foundation Report on the School Principal as Leader

Mitchells' research on the characteristics of successful special school administrators