Excel 2010 Introduction: Part II
Printing, Names and Sheets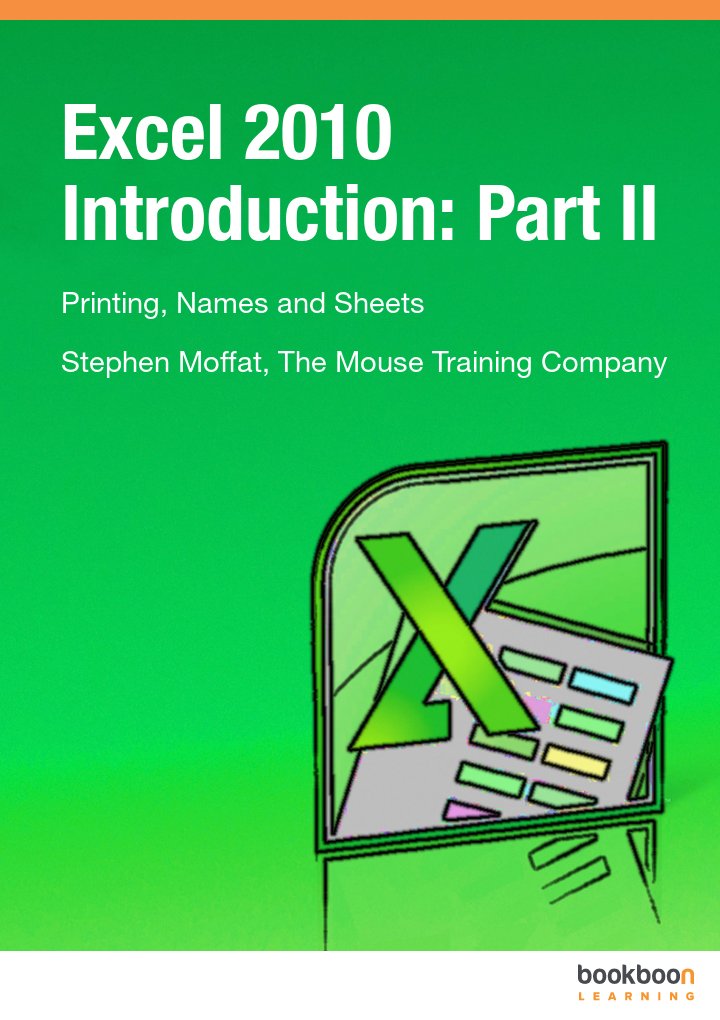 ISBN: 978-87-7681-805-0
1 utgave
Sider : 100
Pris: 75,50 kr
Pris: €8,99
Pris: £8,99
Pris: ₹150
Pris: $8,99
Pris: 75,50 kr
Pris: 75,50 kr
Last ned GRATIS med 4 enkle steg…
Dette er en Premium-eBok
Bookboon Premium - Få tilgang til over 800 eBøker - uten annonser
Du kan få gratis tilgang til dette i én måned - og 800 andre bøker med Premium-abonnementet. Du kan også kjøpe boken nedenfor
Start en 30 dagers gratis prøveperiode. Etter prøveperioden: 39,99 kr p/m
Start en 30 dagers gratis prøveperiode. Etter prøveperioden: €5,99 p/m
Start en 30 dagers gratis prøveperiode. Etter prøveperioden: £4,99 p/m
Start en 30 dagers gratis prøveperiode. Etter prøveperioden: ₹299 p/m
Start en 30 dagers gratis prøveperiode. Etter prøveperioden: $3,99 p/m
Start en 30 dagers gratis prøveperiode. Etter prøveperioden: 39,99 kr p/m
Start en 30 dagers gratis prøveperiode. Etter prøveperioden: 39,99 kr p/m
Brukere som så dette, så også på
Om boken
Vurderinger
Jean Wilner Guerrier
★★★★★
Great book, easy to understand. I give it an A plus.
Professor M M Kenawi
★★★★★
An excellent illustrated resume covering its purpose in an efficient concise approach.
Dinesh Mishra
★★★★★
Simply excellent.
Beskrivelse
In the second part of the Excel 2010 introduction series you will learn more about printing, names and sheets. If you want to learn about formulas, functions and formatting, download the first part of the Excel 2010 Introduction ebook.
Excel 2010 printing
When you want a hard copy of worksheet data, Excel gives you many tools for choosing how that printout will look. In the section about Excel 2010 printing you will learn for example how to set up printing preferences by using the page setup dialog. Insert and edit headers and footers and use print preview and page layout views.
Excel 2010 names
When entering formulas or referring to any area in a workbook, it is usual to refer to a 'range'. For example, B6 is a range reference; B6:B10 is also a range reference. One problem with this sort of reference is that it is not very meaningful and therefore easily forgettable. In the section about names you will learn how to name cells and ranges by three methods. Further you will learn how to edit and manage names and how to sort and filter names.
Excel 2010 sheets
When you create a new workbook, Excel gives you multiple pages within that workbook called worksheets. In the section about sheets you will learn how to deal with sheets in Excel 2010. You will learn for example how to create and rename worksheets, how to create formulas and functions across worksheets and how to group worksheets.
Innhold
SECTION 8. EXCEL 2010 NAMES

NAMING CELLS AND RANGES
Rules When Naming Cells
NAME BOX
Method 1 (Define)
Method 2 (Direct)
Method 3 (By Selection)
Selecting Names (Navigation)
Manage Names By Using The Name Manager.
Names In Functions
Paste List Of Names
Intersecting Names
Applying Names
Filtering Out Needed Named Ranges

SECTION 9. EXCEL 2010 SHEETS

MULTIPLE WORKSHEETS
Moving Between The Workbook Sheets
Worksheet Names
Move And Copy Worksheets
Insert And Delete Worksheets
ACTIVATE GROUP MODE
Group Adjacent Sheets
Group Non-Adjacent Sheets
Deactivate Group Mode
FILL DATA ACROSS WORKSHEETS
3-D Formulae
References To Other Sheets
PROTECT WORKSHEET DATA
Unlock Cells
Worksheet Protection
Unprotect Sheets
View Worksheets Side By Side
Hide Windows 106
Watch Window
Change Colour Of Worksheet Tab

SECTION 10. EXCEL 2010 PRINTING

PRINTING OPTIONS
Print Preview
PAGE SETUP
Page Setup Group On The Page Layout Ribbon
PAGE TAB
Print Preview Options
MARGINS TAB
To Change Header And Footer Position:
HEADER/FOOTER TAB
Header
Footer
New Methods For Headers And Footers In 2010
Insert Specific Elements In A Header Or Footer
Add A Predefined Header Or Footer
Choose The Header And Footer Options
Custom Header Or Footer For A Chart
SHEET TAB
Print Area
Print Titles
Print
To Change Sheet Tab Print Settings:
Page Breaks
PRINT DATA
Copies

SECTION 11. UTILISING LARGE WORKSHEETS

USEFUL TOOLS FOR LARGE SHEETS
Split Screen
Freeze Panes
Zoom
NAVIGATION
Go To
Navigating With Name Box

SECTION 12. CUSTOMISING EXCEL

SET EXCEL OPTIONS
General
Formulas Sheet
Proofing
Save
Language
Advanced Options
Customise Excel Ribbons
Customise Quick Access Toolbar