A Clear Mindset
A Novel Approach To Workplace Conflict Management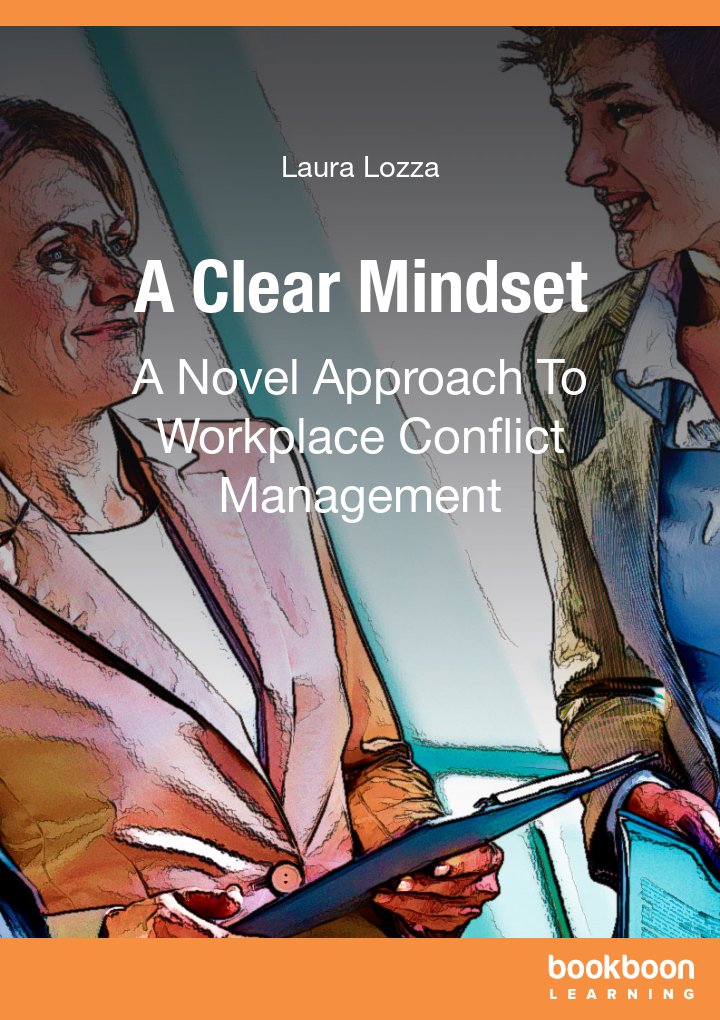 ISBN: 978-87-403-1719-0
1 utgave
Sider : 83
Pris: 75,50 kr
Pris: €8,99
Pris: £8,99
Pris: ₹150
Pris: $8,99
Pris: 75,50 kr
Pris: 75,50 kr
Last ned GRATIS med 4 enkle steg…
Dette er en Premium-eBok
Bookboon Premium - Få tilgang til over 800 eBøker - uten annonser
Du kan få gratis tilgang til dette i én måned - og 800 andre bøker med Premium-abonnementet. Du kan også kjøpe boken nedenfor
Start en 30 dagers gratis prøveperiode. Etter prøveperioden: 39,99 kr p/m
Start en 30 dagers gratis prøveperiode. Etter prøveperioden: €5,99 p/m
Start en 30 dagers gratis prøveperiode. Etter prøveperioden: £4,99 p/m
Start en 30 dagers gratis prøveperiode. Etter prøveperioden: ₹299 p/m
Start en 30 dagers gratis prøveperiode. Etter prøveperioden: $3,99 p/m
Start en 30 dagers gratis prøveperiode. Etter prøveperioden: 39,99 kr p/m
Start en 30 dagers gratis prøveperiode. Etter prøveperioden: 39,99 kr p/m
Brukere som så dette, så også på
Om boken
Innhold
What Is Workplace Conflict


Origin of Workplace Conflicts

Examples of Workplace Conflicts


The 3 Strategies of Conflict Management


Conflict Resolution

Conflict Prevention

Conflict Transformation


The Neuroscience of Conflicts


The Protective Reflex of the Brain

Intuition and Rationality (and the intuitive short-cuts of the brain)

The task and people orientation effects


The 3 Major Mistakes, even Best Leaders Make


The 3 Fundamental Biases

The Negativity Bias

The Ego Bias

The Rationality Bias


The CLEAR Mindset Model

The CLEAR Mindset, The Method


Clear your mind of worries, anxieties and assumptions

Lead an open dialogue with confidence, courage and a smile

Encourage and invite different views

Align on a common intention, accepting differences of approach

Recognize opportunities and co-create positive change

Beskrivelse
Workplace conflicts currently occupy the average working person an estimated time-equivalent of 12 days/year. The majority of these conflicts stem from different views about subjective matters. The very diversity that creates the conflict is an opportunity to learn, grow and co-create. Often, however, the time, effort and skills required to benefit from this diversity make us choose to simply work on removing the conflict as quickly as possible.
This book provides an updated and no-nonsense framework for understanding and then overcoming the unconscious biases that hinder our ability to deal with disagreements and conflict in a constructive way.
With the help of sound and up to date insights about the Neuroscience of Conflict, you will be guided through an understanding that will forever change the way you talk, listen and negotiate during stressful conversations.
You will learn a simple five-step approach, proven effective by hundreds of leaders in blue chip organizations, that will make you and our teams able to transform workplace conflicts into positive opportunities for open constructive dialogues leading to co-creation and enhanced engagement.

About the author
Laura Lozza gained a Master of Science in Industrial Chemistry at the Genova University (Italy) and then immediately joined Procter & Gamble as Technical Brand Manager; she then continued in P&G throughout a successful international career; she lived in the USA, in Germany and Belgium and gradually moved to more global and strategic positions that exposed her to a vast range of Asian, American and European cultures. When their two children reached school age, together with her Norwegian husband she decided to move the family to Norway and joined Norsk Hydro where she continued her international career in roles that included Business Development, Marketing and General Management. She had a further expatriate assignment in France and held significant P&L responsibilities in Africa.
Constantly eager to learn, develop and grow, Laura became very quickly fascinated by leadership studies from the early days in P&G, a passion that she continued to cultivate through extensive executive education (from IMD to Ashridge) and which culminated in Coaching studies and more recently in Applied Neuroscience studies, which were both instrumental to her decision, in 2010, to leave her corporate career and become fully engaged in coaching and leadership training. She founded Grooa, a partnership of international business consultants and coaches operating in Europe and has since successfully coached and trained in coaching skills hundreds of executives.
A member of ICF, she coaches in four languages (English, Italian, French and Norwegian) and she divides her time between the city life of Oslo (Norway) where Grooa is headquarted and the country life of Gemert (Netherlands), where her third husband has his origins.
website: www.grooa.com