The Upside Down Guide to writing for the Press
Write like a pro and get published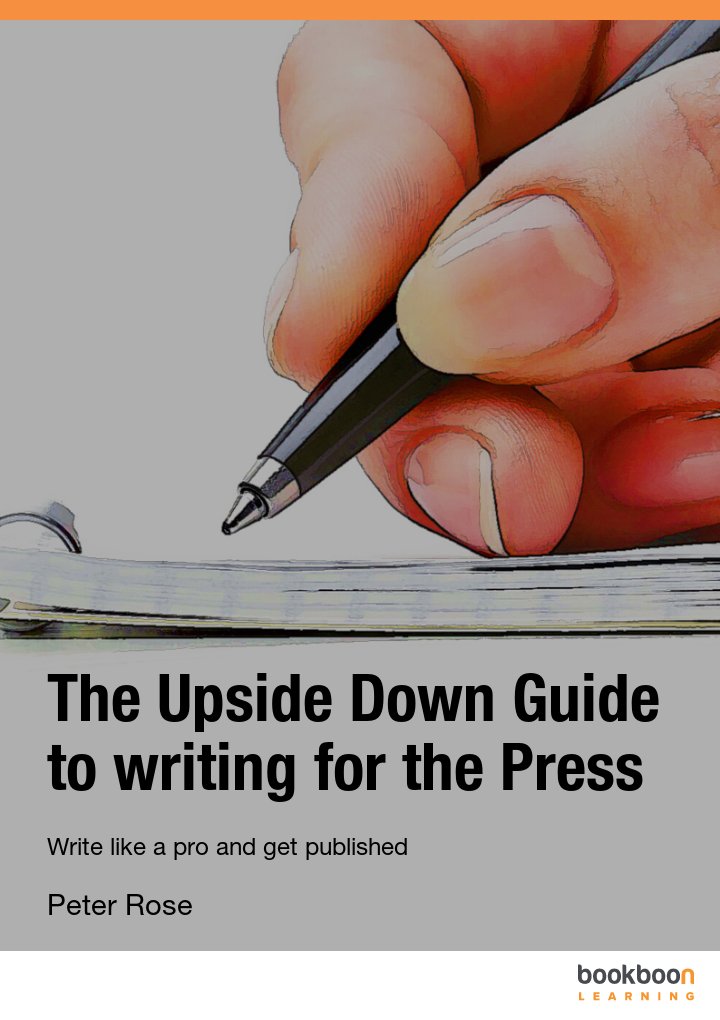 ISBN: 978-87-403-0702-3
1. udgave
Sider : 49
Pris: 75,50 kr
Pris: €8,99
Pris: £8,99
Pris: ₹150
Pris: $8,99
Pris: 75,50 kr
Pris: 75,50 kr
4 nemme skridt til din e-bog
Dette er en Premium eBog
Bookboon Premium - Få adgang til over 800 eBøger - uden annoncer
Du kan få gratis adgang i 30 dage til denne - og 800 andre bøger via Premium abonnementet. Du kan også købe bogen nedenfor
Start et 30 dages prøveabonnement. Efter 30 dage: 39,99 kr pr/måned
Start et 30 dages prøveabonnement. Efter 30 dage: €5,99 pr/måned
Start et 30 dages prøveabonnement. Efter 30 dage: £4,99 pr/måned
Start et 30 dages prøveabonnement. Efter 30 dage: ₹299 pr/måned
Start et 30 dages prøveabonnement. Efter 30 dage: $3,99 pr/måned
Start et 30 dages prøveabonnement. Efter 30 dage: 39,99 kr pr/måned
Start et 30 dages prøveabonnement. Efter 30 dage: 39,99 kr pr/måned
Brugere, som har set på denne, har også se på
Om bogen
Anmeldelser
edward king
★★★★★
This is an excellent book in which even an experienced writer like me found some useful hints and tips. Any beginning writer should find the example press releases especially helpful.
Mike S
★★★★★
Most journalists know the importance of getting to the heart of their story as quickly as possible. The "Who, What, Where, When and Why" mantra is instilled at an early stage of their careers and, as this entertaining and enlightening book explains, it is just as important to writers of press releases and other publicity material. The author may have used some journalistic licence in adding "How" as his sixth W to this list but, given the explanatory nature of most trade and technical publications, this is more than justified. The other mantra drummed into journalists, especially those writing for and editing specialist titles, is "know your reader". Getting the right balance between seriousness and superficiality is crucial to a successful publication, whether print or digital. And of course this applies equally to press releases, as this book shows in a series of amusing examples of how and how not to write them. With his background on both sides of the publishing divide, the author certainly knows his readers in the world of PR and marketing. More importantly though, he shows he knows their readers too -- the editors and journalists on the receiving end of floods of publicity material, again whether print or digital. Like me, on reading this book many an editor (though of course it's not aimed at them) can but smile, nod sagely and hope the author's words of wisdom have a lasting impact on their intended audience.
Eric Peters
★★★★★
A text book that is humorous and informative - Who knew it was possible? It just goes to show you can teach an old dog new tricks: I am using the 6 Ws tip with a post-it note on my laptop as you recommend. I have also sent the link to my contacts.
Noreen Comerford
★★★★★
Just read your book. In a nutshell - and in consideration of the inverted pyramid: A must-read for both experienced and aspiring PR writers that want to know the mechanics (and golden secrets!) behind getting their material published - every time. You have taken years of cultured, diverse experience and somehow made this text book an entertaining, "fun" read. In addition, this is a reference book I will go to time and time again - the tactical examples of "do's and don'ts" for releases, as well as the "Word 1 - Word 2 " charts - are like having your own "cheat sheets" to continually revisit. I would post a warning in your promotion: Warning: Do not send out another Press Release before reading this book!!!!
Peter U.
★★★★★
In a few words- it is just what is needed as it covers virtually everything that an editor hates. With any luck it will be taken by the self gratifying, know all's and the simply ignorant - this applies to both end users and far too many so called PR agents. This is a precise publication written & illustrated by a PR professional with years of experience and appreciation of what editors like and don't like and if those mentioned have the nouse & guts to accept it and learn from it you will have not only have achieved the impossible, but gained the grateful thanks from a host of editors. But it is publication that is not only for the "experienced", it has the opportunity to become a "text book" for teaching aspiring PR writers and journalists and to that end all progressive PR agencies should have it, not on a shelf gathering dust or tucked away in cupboard and forgotten, but on the desk ready for help and learning. Congratulations - it's the best that I have seen.
Beskrivelse
Globally, there are more than print 600,000 magazines in circulation and countless more on-line publications, blogs and forums. They are all hungry for material. This e-book will ensure that it is YOUR press release that provides the material these websites and magazines need.
The Upside Down Guide to Writing for the Press will help you understand:
The mechanics of writing a successful press release or article.
How to ensure that your copy is relevant and newsworthy.
How professionals check they have included all of the salient facts.
Different types of press release; plus written examples.
How to stay on the right side of editors and journalists.
Which language traps to beware of!
How writing effectively helps improve web content.
This book may not turn you into an award-winning journalist. But, follow its rules and it will help achieve better and more extensive coverage for your press releases.
Indholdsfortegnelse
The inverted pyramid
How do we define News?
The painful birth of a press release
Structuring a Press Release – The Six Ws
What can I put into a Press Release?
Getting the picture?
Journalists' pet hates – and some ways to avoid them
PRINT versus DIGITAL – What price conventional Press Relations in the Twitter age?
Writing for the Web and other electronic media
LANGUAGE: Confusion reins: or should that be reigns?
Summing Up