Creating an Entrepreneurial Mindset
Failure IS an Option!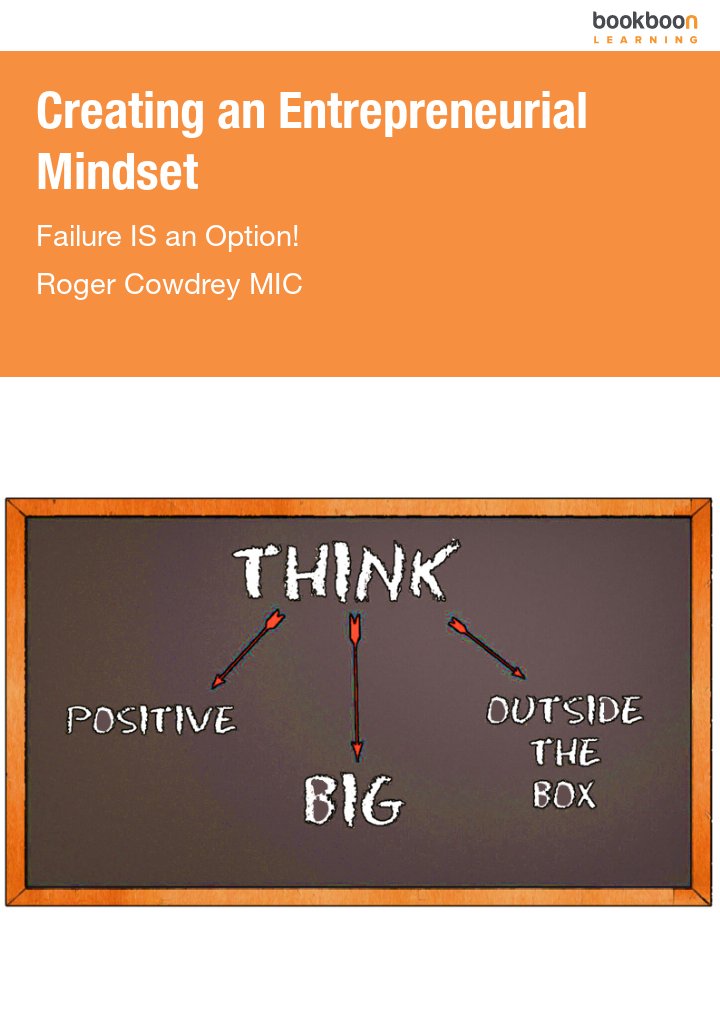 ISBN: 9978-87-403-0310-0
1. udgave
Sider : 57
Pris: 75,50 kr
Pris: €8,99
Pris: £8,99
Pris: ₹150
Pris: $8,99
Pris: 75,50 kr
Pris: 75,50 kr
4 nemme skridt til din e-bog
Dette er en Premium eBog
Bookboon Premium - Få adgang til over 800 eBøger - uden annoncer
Du kan få gratis adgang i 30 dage til denne - og 800 andre bøger via Premium abonnementet. Du kan også købe bogen nedenfor
Start et 30 dages prøveabonnement. Efter 30 dage: 39,99 kr pr/måned
Start et 30 dages prøveabonnement. Efter 30 dage: €5,99 pr/måned
Start et 30 dages prøveabonnement. Efter 30 dage: £4,99 pr/måned
Start et 30 dages prøveabonnement. Efter 30 dage: ₹299 pr/måned
Start et 30 dages prøveabonnement. Efter 30 dage: $3,99 pr/måned
Start et 30 dages prøveabonnement. Efter 30 dage: 39,99 kr pr/måned
Start et 30 dages prøveabonnement. Efter 30 dage: 39,99 kr pr/måned
Brugere, som har set på denne, har også se på
Om bogen
Anmeldelser
Akwaowo
★★★★★
It is an amazing book, I liked it word for word. The writing is so logical and impacting, I would recommend anyone to read it . Cheers.
sai visitor
★★★★★
May be best way to start small business of entrepreneurs !
Ligia Buzan., Ph.D.
★★★★★
"Creating an Entrepreneurial Mindset" is a little gem that offers numerous invaluable insights to those willing and eager to build a better life. The book is written in a language that is accessible to the everyday person-- mother, father, employee, or laid-off person-- who is bursting with the desire to create a small business, but who does not know where to start, is, perhaps, a little bit intimidated by the whole buzz that surrounds the concept of entrepreneurship, and is a bit frightened of failing at a new venture. There is a definite shift in the world, and even if we do not acknowledge it yet, we know that skills such as creative and integrative thinking, as well as the courage to embrace new opportunities that came our way, are what separate those who are stuck in the corporate life of the 20th century waiting to get directions from their bosses, from those who are developing integrated lives where work and leisure are aligned, as manifested in their glowing financial, physical and emotional wellbeing. No need to be fearful or overwhelmed. Roger Cowdrey shares analytical and creative tools developed over a lifetime of experience in numerous countries and on several continents, to support you to develop an entrepreneurial vision and a map around your deepest desires, talents, skills and values. TGF (Thank God It's Friday) will be forever deleted from your vocabulary and instead, you will celebrate every day, and every moment, if you dare to follow Roger on this exhilarating journey, and if you are courageous enough to shift your thinking to embrace fears and failures as great lessons so that you can bake these (necessary) ingredients into a recipe for success. In addition to offering easy-to-use creative tools detailed in chapters 3 and 4, Roger, who has assisted numerous successful entrepreneurs, shares some simple steps on how to start a business. With powerful examples, the author teaches you to ask hard questions and then, having created a visi
Baver AYDIN
★★★★★
This book made me to redefine entrepreneurship as a mindset rather than just a business term. Moreover the book answers the question of "how to?" by recommending some useful tools to create an entrepreneurial mindset. In conclusion this book gives a great insight about how "ordinary" people can become entrepreneurs.
Fatih Mehmet Şen
★★★★★
The book brings a unique and practical perspective on the concept of entrepreneurship. The author's first-hand experience and his sensible point of view help you draw a simple picture in your mind, providing a clear standpoint about where to start and how to start. Regardless of the stage your business is at or the sector you work in, you will find the inspiration you need.
Beskrivelse
This book considers entrepreneurism as an essential component in all aspects of life rather than the narrow business definition. It looks at the various views of the concept of entrepreneurism before defining the characteristics that the author believes are required in order to be entrepreneurial. The book goes on to examine the things that inhibit our entrepreneurial behaviour and then suggests ways of improving our minds to behave more entrepreneurially.
Indholdsfortegnelse
What is an Entrepreneur?
What stops people behaving in an entrepreneurial way?
How entrepreneurial are you?
Developing a clear vision
Building skills to implement the vision
Entrepreneurship in action
Conclusion
References