Java 5: Files and Java IO
Software Development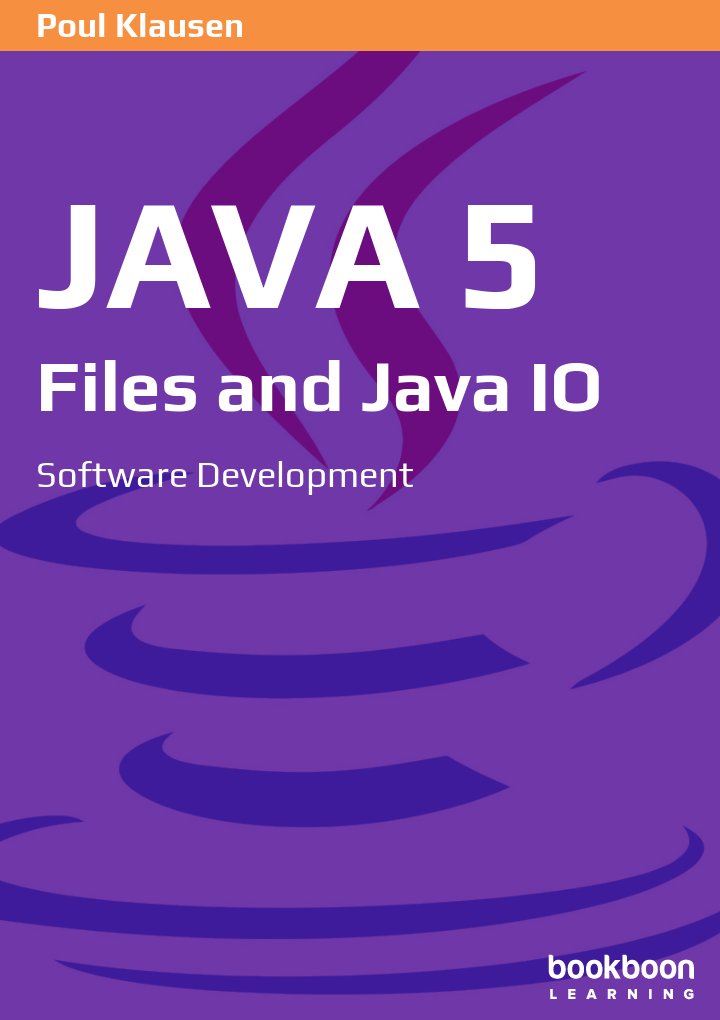 ISBN
1 edición
Páginas : 214
Price: 129,00 kr
Price: €13,99
Price: £13,99
Price: ₹250
Price: $13,99
Price: 129,00 kr
Price: 129,00 kr
Descarga GRATIS tus ebooks en 4 sencillos pasos
This is a Premium eBook
Bookboon Premium - Gain access to over 800 eBooks - without ads
You can get free access for a month to this - and 800 other books with the Premium Subscription. You can also buy the book below
Start a 30-day free trial. After trial: 39,99 kr p/m
Start a 30-day free trial. After trial: €5,99 p/m
Start a 30-day free trial. After trial: £4,99 p/m
Start a 30-day free trial. After trial: ₹299 p/m
Start a 30-day free trial. After trial: $3,99 p/m
Start a 30-day free trial. After trial: 39,99 kr p/m
Start a 30-day free trial. After trial: 39,99 kr p/m
Los usuarios que vieron este artículo también vieron
Acerca del libro
Contenido
Introduction 8

java.io 10


Files 10

Exercise 1 16

Random access files 17

Problem 1 33

Byte streams 37

Exercise 2 47

Exercise 3 49

Exercise 4 49

Object serialization 50

Character streams 62

Problem 2 65

Text scanner 74

Exercise 5 76


java.nio 78


Buffers 79

Channels 97

Path and Files 112


Operations on simple data types 127


The integers 127

Exercise 6 131

Exercise 7 135

Problem 3 136

Problem 4 143

Exercise 8 145

Exercise 9 148

Exercise 10 149


Final example 150


The model 153

The user interface 157

The dialog box 160

Descripción
This book is the fifth in a series of books on software development in Java. The subjects of this book are about files and how you in Java can manipulate files. Java defines two API's for IO: java.io and java.nio, and the book treats both API's. Furthermore the book treat data representation and the binary operations, and the book has an appendix, which gives a brief introduction to the binary and hexadecimal numbers.

Click here to download the source files from this book.

About the author
Poul Klausen er uddannet cand. scient. i matematik fra Aarhus Universitet med speciale i algebraisk topologi. Efter universitetet og et efterfølgende pædagogikum har Poul Klausen primært arbejdet som underviser og det især inden for it uddannelser og gennem de sidste mange år som underviser på datamatiker uddannelsen. Her har han især undervist i programmering og har i den sammenhæng både beskæftiget sig med og undervist i en række forskellige programmeringssprog og herunder også C#. Ud over programmering har Poul Klausen beskæftiget sig med andre emner inden for systemudvikling, hvor specielt kan nævnes design, modellering og databaser. Han har desuden undervist i mere tekniske fag som operativsystemer og computer netværk.
Ud over undervisning har Poul Klausen arbejdet i det private som softwareudvikler dels i perioder som fuldtids systemudvikler og dels parallelt med jobbet som underviser. Opgaverne har været mange og specielt kan nævnes udvikling af administrative løsninger og en række web relaterede produkter. I de sidste år har Poul Klausen i forbindelse med praktisk systemudvikling primært beskæftiget sig med business intelligence, og i relation hertil har han primært interesseret sig for data mining.