A Guided Tour through Euro Area Economics
Basics – Methods – Applications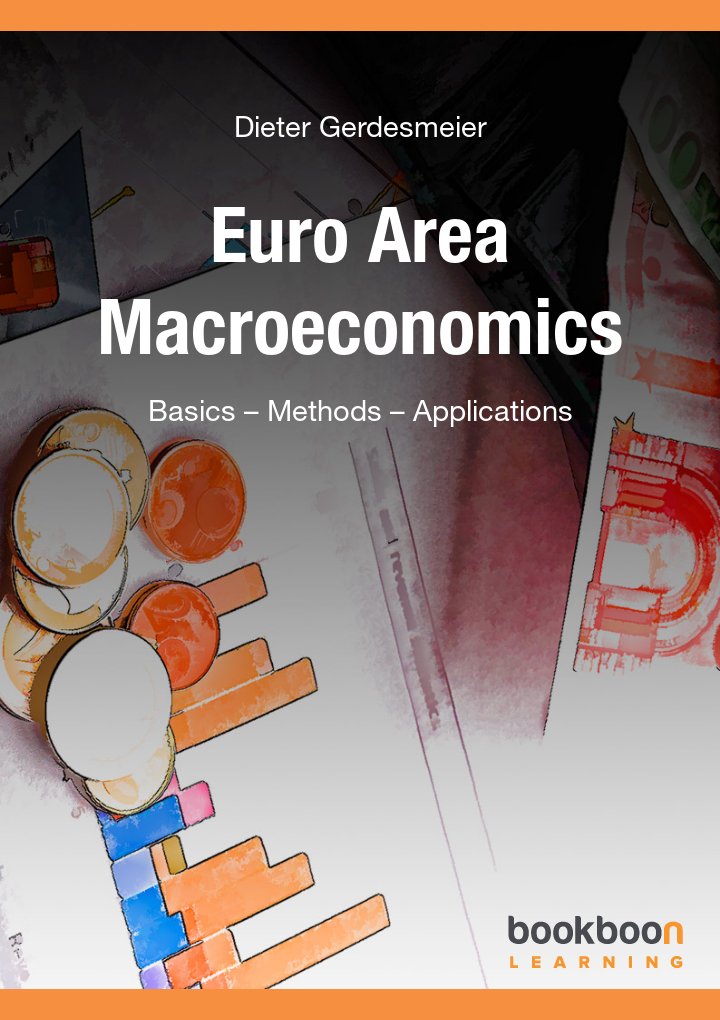 ISBN: 978-87-403-1180-8
1 edition
Pages : 201
Price: 129.00 kr
Price: €13.99
Price: £13.99
Price: ₹250
Price: $13.99
Price: 129.00 kr
Price: 129.00 kr
Download for FREE in 4 easy steps...
This is a Premium eBook
Bookboon Premium - Gain access to over 800 eBooks - without ads
You can get free access for a month to this - and 800 other books with the Premium Subscription. You can also buy the book below
Start a 30-day free trial. After trial: 39.99 kr p/m
Start a 30-day free trial. After trial: €5.99 p/m
Start a 30-day free trial. After trial: £4.99 p/m
Start a 30-day free trial. After trial: ₹299 p/m
Start a 30-day free trial. After trial: $3.99 p/m
Start a 30-day free trial. After trial: 39.99 kr p/m
Start a 30-day free trial. After trial: 39.99 kr p/m
Users who viewed this item also viewed
About the book
Description
This book provides a very didactical and easy-to-read introduction to contemporary macroeconomics. The text covers the basic concepts and methods used in this field in an integrated manner . Theoretical considerations are consistently supported by real-world examples, various exercises and multiple choice equations. Special focus is given to various key aspects of the euro area economy.
Preface
This book is meant to represent a companion publication to the earlier and more basic book entitled "Fundamentals of monetary policy in the euro area" insofar as it covers topics that are more of a macroeconomic nature. Given the strong empirical focus that macroeconomics has witnessed over the last decades, the book aims at supplementing the basic concepts with a number of real-world examples conducted with adequate econometric tools.
Part I is meant to provide the reader with the basics. The key concepts are defined and some simple analysis is carried out in verbal and graphical form.
Part II takes some selected issues up and makes an attempt to dig deeper into the relevant issues. In particular, the institutional foundations of the European Economic and Monetary Union (EMU) are summarised and the process of European monetary integration is described in more detail. Additional topics are price indices and inflation, measures of real economic activity and unemployment.
Content
Introduction and motivation
Understanding Economics

Learning Objectives
Basic Concepts
Microeconomics and Macroeconomics
Ex Ante and Ex Post Analysis
A Short History of Economics
Some Key Macroeconomic Variables
Some Key Macroeconomic Issues
Summary

A Look into the Tool Box

Learning Objectives
Models
Types of Analysis
Analysis of Supply and Demand
Complementary and Substitute Goods
Slope and Elasticity
Summary

National Income Accounting

Learning Objectives
Accounting Conventions
Nominal and Real GDP
GDP and Welfare
A Circular Flow Analysis
Summary

The Market for Goods

Learning Objectives
Basic Considerations
The Consumption Function
The Investment Function
Equilibrium in the Market for Goods
The Investment Multiplier
The Government Multiplier
The IS Curve
Unravelling the Secrets of the Twin Deficits
Summary

The Money Market

Learning Objectives
Basic Considerations
Institutional Background of Euro Area Monetary Policy
Money Supply
Money Demand
Equilibrium in the Money Market
Equilibrium in the Money Market with Constant Income
Equilibrium in the Money Market with Variable Income
Summary

The IS-LM-Model

Learning Objectives
Equilibrium in the Goods and the Money Market
Disequilibria
Some Comparative-Static Analysis
Summary

The Labor Market

Learning Objectives
Basic Considerations
The Labor Market – the Classical View
The Labor Market – the Keynesian View
Summary

Aggregate Supply and Demand

Learning Objectives
Aggregate Demand
Aggregate Supply
Equilibrium in the Short Run
Equilibrium in the Long Run
Summary

The European Union and the European Monetary Union

Learning Objectives
The European Union
The European Central Bank
The roadmap to EMU
Key Characteristics of the Euro Area Economy
Convergence Criteria
Nominal and Real Convergence
The Future of EMU
Summary

Business Cycle Fluctuations

Learning Objectives
Fluctuations in Real GDP
Various Types of Cycles
Business Cycle Indicators
Output Gaps
A First Look at the Data
A Second Look at the Data
Summary

Unemployment

Learning Objectives
Basic considerations
Types of Unemployment
Summary

Prices and Inflation

Learning Objectives
Goods and Baskets
Inflation and the Price Level
Effects of Inflation
Inflation Indices
The Harmonised Index of Consumer Prices
Core and Non-Core Inflation
Measurement Problems
Hyperinflation
Sacrifice Ratios
A First Look at the Data
A Second Look at the Data
A Third Look at the Data
Summary

Growth Theory

Learning Objectives
Some Basic Considerations
Growth of Capital Per Person
Growth in the Autonomous Factor
A First Look at the Data
Summary

Multiple Choice Test
List of Symbols and Abbreviataions
Glossary
References
About the Author
Dieter Gerdesmeier wuchs in Efringen-Kirchen im südlichen Markgräflerland auf. Nach dem Studium der Wirtschaftswissenschaften und anschließender Promotion an der Universität Basel (CH) war er von 1993 bis 1998 in der Abteilung Geld, Kredit und Kapitalmärkte sowie in der Abteilung "Geldpolitische Grundsatzfragen" in der Hauptabteilung Volkswirtschaft der Deutschen Bundesbank beschäftigt. Von 1998 bis 2005 arbeitete er in der Abteilung "Geldpolitische Strategie", anschließend in der Abteilung "Geldpolitischer Kurs" der Direktion Geldpolitik der Europäischen Zentralbank. Von März 2007 bis September 2008 und erneut ab Januar 2011 agiert Dieter Gerdesmeier als Sekretär des geldpolitischen Komitees der Europäischen Zentralbank:
Neben seiner hauptberuflichen Tätigkeit in der EZB ist er auch an der Frankfurt School of Finance & Management in Frankfurt am Main im Rahmen einer Honorarprofessur tätig.
Er ist Autor mehrerer Fachbücher und hat in einer Reihe von hochrangigen Zeitschriften veröffentlicht. Seine Interessensgebiete umfassen vor allem die Gebiete der Geldtheorie und Geldpolitik, der internationalen Finanzmärkte sowie angewandte empirische Fragestellungen.