Law for Computing Students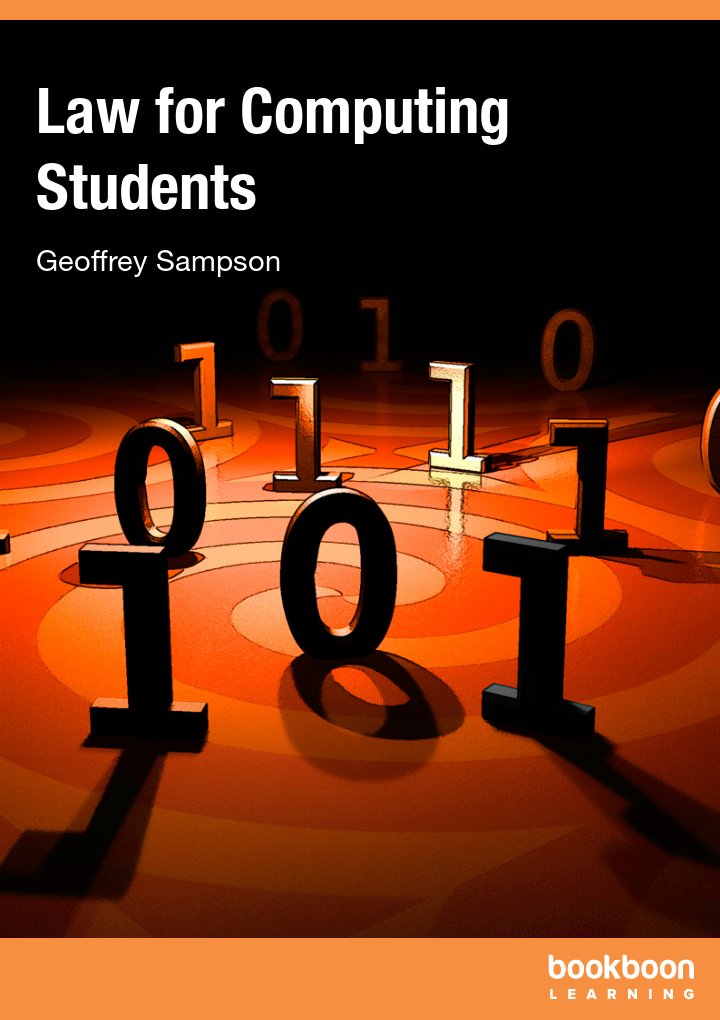 ISBN: 978-87-7681-471-7
1. Auflage
Seiten : 137
Preis: 129,00 kr
Preis: €13,99
Preis: £13,99
Preis: ₹250
Preis: $13,99
Preis: 129,00 kr
Preis: 129,00 kr
KOSTENLOS downloaden in 4 einfachen Schritten...
Das ist ein Premium eBook
Bookboon Premium - Erhalten Sie Zugang zu über 800 eBooks - ohne Werbeanzeigen
Erhalten Sie kostenlosen Zugang für einen Monat - und 800 andere Bücher mit dem Premium Abo. Sie können das Buch auch einzeln kaufen
Kostenloses 30-Tage Probeabo. Dann 39,99 kr p. M.
Kostenloses 30-Tage Probeabo. Dann €5,99 p. M.
Kostenloses 30-Tage Probeabo. Dann £4,99 p. M.
Kostenloses 30-Tage Probeabo. Dann ₹299 p. M.
Kostenloses 30-Tage Probeabo. Dann $3,99 p. M.
Kostenloses 30-Tage Probeabo. Dann 39,99 kr p. M.
Kostenloses 30-Tage Probeabo. Dann 39,99 kr p. M.
User, die diesen Artikel angesehen haben, sahen auch
Über das Buch
Beschreibung
Anyone hoping for an IT career needs to know something of how the IT industry is affected by the law. This textbook gives computing students the basic essentials. In a fast-moving field, it shows not only what the law now is but which directions it is evolving in. After a brief survey of how English law works, chapter topics include IT contracts, copyright and patents, data protection and freedom of information, web law, and others. Frequent reference to real-life law cases creates a level of human interest which helps readers assimilate the underlying principles.
Einleitung
So why do computing students need to know anything about law, beyond – just like anyone else – how to keep themselves out of trouble with the police?
Well, most students who take a degree in computing (computer science, information systems, "informatics", or similar) aim to find a computing-related job in a company or a public-sector organization. And that job will not involve just sitting in a back room hacking code. Jobs like that mostly disappeared with the twentieth century, and those that remain have largely been offshored to countries like India. Jobs for British computing graduates in the 21st century involve using technical knowledge to help a business to flourish; they are about business savvy as much as about bits and bytes. (This includes public-sector jobs; public-sector organizations do not make profits, but they run "businesses" as commercial companies do.) A crucial factor for successful business is an understanding of the broad legal framework within which business operates; computing graduates need to be aware in particular of how law impinges on information technology.
Inhalt
Introduction

The purpose of this book
Geographical perspective
Further reading

The nature of English law

Different jurisdictions
Is IT law special?
The nature of the adversaries
Sources of law
Bases of legal authority

Faulty supplies

Breach of contract v. tort
IT contracts
Letters of intent
Interpretation of contracts
Torts

Intellectual property

The growing importance of intangible assets
Copyright and patent
Do we need intellectual-property laws?
Copyright for software
Two software-copyright cases
Databases
The focus shifts from copyright to patent
The nature of patent law
Is software patentable?
Some software-patent cases
The American position
An unstable situation

Law and rapid technical change: a case study

Film versus video
The Attorney General seeks a ruling
Pornography meets the internet
Are downloads publications?
Censoring videos
The difficulty of amending the law
R. v. Fellows and Arnold
Allowing downloads is "showing"
What is a copy of a photograph?
Uncertainties remain
The wider implications

Personal data rights

Data protection and freedom of information
The Freedom of Information Act
Limiting the burden
Implications for the private sector
Government recalcitrance
Attitudes to privacy
Is there a right to privacy in Britain?
The history of data protection
The Data Protection Act in outline
The Bodil Lindqvist case
The Data Protection Act in more detail
Is the law already outdated?

Web law

The internet and contract
Ownership of domain names
Web 2.0 and defamation

Regulatory compliance

Sarbanes–Oxley and after
Accessibility
E-discovery
Conclusion

Endnotes
Über den Autor
Geoffrey Sampson is a British university teacher. After studying Oriental languages and computing at the University of Cambridge and at Yale University in the USA, he spent the earlier part of his career teaching linguistics, and the later part teaching informatics, specializing in e-business and legal aspects of information technology; he directed the Sussex Centre for Advanced Software Applications, and led research projects sponsored by the UK Ministry of Defence and other agencies. Sampson has held visiting posts at British Telecom Research Labs, at the Royal Signals and Radar Establishment (now Qinetiq), and at the universities of Geneva, Cape Town, and the Witwatersrand. Since retiring from his chair at Sussex University, Sampson has been a research fellow at the University of South Africa.
Sampson has published many books and academic papers. Most are about information technology or linguistics, but for instance he has also published a book of translations of 3000-year-old Chinese love poetry.
Author website
http://www.grsampson.net/