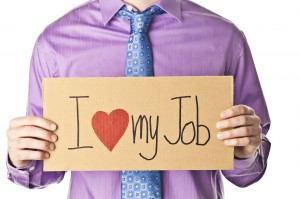 In the first half of this twin article, we described how you can create a high-quality job profile that helps you identify top tasks and essential requirements of a given job role. Now it's time to put this job profile to good use and initiate the actual recruitment process. 
Step three: Advertising your job vacancy
By concentrating on the top tasks and essentials you uncovered in steps one and two, you can write a compelling job advert that will sound appealing to the people you're interested in while making sure those who lack the most essential qualifications can see immediately they would waste everyone's time if they applied:
Headline:
The headline always consists of the position's title. You want to make sure people understand what kind of job role you're advertising, therefore, choose the most commonly known job title here, even if you have a different name for it internally.

Meta information:
Before you mention tasks and requirements, provide the most important meta data about the job: Where in your company will the person work? How many hours a week does this vacancy offer? Is this a permanent position?

Responsibilities section:
Here's where the top tasks you have identified in step one come into play. Include the first five and leave it at that: It will focus people's attention to the main aspects of this job, without distracting it with less important tasks. Many job adverts get this wrong and try to include everything here – this can be your competitive advantage.
Requirements section:
This module is very crucial because, if done well, it will encourage talented and skilled people to apply, while discouraging those who lack the essentials for this job. Put in your essentials first and make sure it's clear that you will only consider applicants who meet your essential requirements. Then add the most important of your desirables – but, like in the section above, be succinct and try not exceed 5 entries for the entire section.
Employee perks:
After you have described what you expect from candidates, you should tell them what they can expect from you. Why should they pick you if they'd receive offers from several different companies?

How to apply:
Many HR managers don't realise that this is where they can lose valuable applications if the application process is messy or complicated. This is often the case when applicants are forced to fill in lengthy online forms where they have to copy and paste their CV into different fields. Rule of thumb: The easier it is for people to apply, the more likely it is they will go through with it. It may lead to more administrative work for you – but it'll be worth it.
This article is based on the following eBook:
The Seven Deadly Sins of Employment
How to Avoid the Most Common Mistakes Made By Employers
This book is a useful guide for those who are new to HR or managing teams.
Step four: Picking the right person.
Hopefully, your carefully crafted job ad got you a number of relevant applications. Now it's time to find the best fit for your company:
Select your top candidates:
Start with checking if applicants really meet your essentials. Discard those who don't. Now compare applications with each other and sort them by how well they match your overall requirements, including desirables. Highlight the top five candidates and invite them to a phone interview.
Vet your candidates by telephone:
This can be a traditional phone call or a VoIP session. Use this step to make sure applicants really meet your minimum requirements, to clarify questions you have about their application, and to ensure they are truly interested in working for you. This will help you decide whether you should invite them to the final step, the in-person interview.
Interview your final picks in person:
This is the final step where you should concentrate on two aspects: You need to be absolutely convinced that they will be able to perform the top tasks of this job role – you can use prepared questions or a test to do that – and also that their personality is a good fit for the team they work with and for the company as a whole. Usually this means that you will have a two-part interview in which the line manager takes charge of the first section while the Human Resources representative takes over the second.
Select your top candidate:
After each interview, discuss your findings with the other attendees. Do this right away: You often forget important impressions as time passes. During your review of the second interview, compare your evaluation with your first conclusions and continue accordingly for the remainder of the interviews to get a list with your first choice on top, your last (but still acceptable) choice at the bottom. If your top candidate doesn't accept your offer or unexpectedly withdraws their application, you can simply contact the next one on the list.
Recruitment can be difficult – but if you get your priorities right and concentrate on what's really important, you will be more likely to attract the right talent and find a good fit for your company. We hope our tips will help you get there.
You might also find these books interesting: