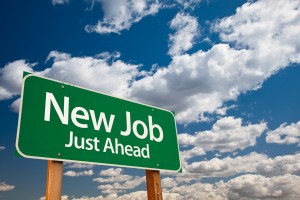 This article is based on the free eBook "Time to get hired"
No matter what kind of job you're after, you will be asked to talk about yourself in the interview. This allows the company to evaluate whether your professional and personal qualifications are suited to the job.
This is your opportunity to make a positive impression. It's important that you spend the time talking about your qualifications and present yourself in a positive light.
Avoid repetition and practise
This should only take a few minutes, so you must be prepared to talk about yourself and your background without trying to say too much. It's a very good idea to write down a few keywords and follow the points you've thought about in advance. This will help you to avoid repetition and include all of the important details.
Always remember to practise what you want to say. You may want to ask someone you know – your spouse, partner or a friend – if they'll listen to what you intend to say. This will let you practise your presentation and assess how it sounds.
If you have not prepared in advance, the chances are that, after the interview, you will be left thinking, e.g. "I didn't get to mention my strengths."
Use the template below for your preparations
A little bit about your personal life:
Age, marital status, where you live
Work experience
Your education and training
Find more interview tips here
Time to get hired
'Time to get hired' is a step-by-step booklet that helps you to understand what it takes to land a new job through alternative channels that applying as a response to a job ad.
Which companies have you worked for?
Your qualifications for this job
Professional qualifications for the job
Personal qualities in relation to job
When you talk about yourself and your background, talk about the positives in terms of work experience, professional skills and human qualities.
Leave out stories about your former boss treating you badly, etc. Or that because of the heavy workload and poor working environment you were off sick for a prolonged period.
All of this may well be true and be a part of your background, but keep your eyes on the goal. Talk about your qualifications for this job. You don't want your prospective future boss to sit there thinking, "I don't want him/her talking like that about me some day!"
After your presentation, the company will usually ask you some questions.
If you are only being interviewed by a department head, the questions will largely be work-related (e.g. "How many years' experience do you have in a particular area?", "How long did your previous job last?") and about whether you have experience with particular types of work.
Questions to expect from a head of department:
What do you know about our company?
Why do you want to work for us?
What can you bring to the table that others can't?
What do you think is the most and least attractive aspect of the job?
Why should we take you on?
What aspects of a job are most important to you?
What do you think the job will consist of?
Where do you see yourself in five years?
What are your pay expectations?
If an HR officer is present, be prepared for some "softer" and broader questions as they judge whether you're the right person in relation to the job, the staff and the company.
Questions to expect from an HR officer:
What are your strengths/ weaknesses?
Would you mind taking a test?
Were you sacked from your last job? Why?
What do you understand by a good working relationship?
What do you think of your current boss?
What would your former colleagues say about you?
How is your financial situation?
How many sick days have you had in the last year?
Are you willing to take further training?
What do you do in your spare time?
We recommend that you prepare your answers to these questions in advance. If you are asked an uncomfortable question, it's best to avoid having to think of an answer during the actual interview. You risk being unable to explain yourself properly. You don't want to walk away thinking that you didn't make the right impression.
There are many more tips on how to prepare for an interview. If you are keen to learn more about the application process, have a look at the free eBook "Time to get hired" written by EmploymentCare.
Download "Time to get hired" right here
You might also find these books interesting...